Round 8 of 2nd Leg of European Youth Grand Prix Took Place Today in Jermuk
2017-10-12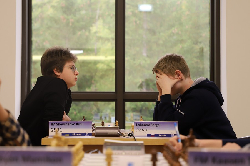 Games of round 8 of 2nd leg of European Youth Grand Prix took place in Jermuk, Armenia. The sole leader of the tournament Kirill Shevchenko celebrated his 7th victory; this time Shevchenko took victory over Sergei Lobanov with black pieces. Aram Hakobyan who was on the 2nd place lost to Viachaslau Zarubitski of Belarus. Shant Sargsyan defeated the winner of 1st leg of European Youth Grand Prix Kirill Shubin. The third representative of Armenia - Mamikon Gharibyan, lost to Kaasen Tor Fredrik of Norway.
Arseniy Nesterov of Russia celebrated an important victory over his compatriot Stefan Pogosyan and rose to 4th place. After very bad start Pultinevicius Paulius of Lithuania celebrated his second victory in a row; this time his opponent was Kacharava Nikolozi of Georgia.
After the 8th round Ukrainian Kirill Shevchenko strengthened his leading positions; now he got 7.5 points, which is 1 point more than his nearest pursuer Shant Sargsyan has. Aram Hakobyan remained with 6 points and is now on the third place. Arseniy Nesterov of Russia is on the 4th place with 5.5 points.
Useful links

www.chess-results.com

Weather in Jermuk
Sponsor

Organizers