Kirill Shevchenko Again Started to Solely Lead the Table
2017-10-08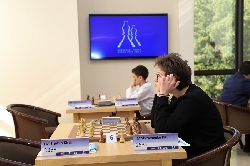 Round 5 of European Youth Grand Prix took place today in Jermuk. Three draws were registered today. This is so far the most drawish round. One of the three leaders of the tournament Kirill Shevchenko took a victory over Kirill Shubin. The game was very tense and at some point Shevchenko's position was worse but Shubin blundered very badly and lost.
Two other leaders – Aram Hakobyan and Shant Sargsyan had dominating positions, but both of them made draws. Mamikon Gharibyan managed to win a game against Stefan Poghosyan of Russia. Tor Fredrick Kaasen of Norway after four consecutive defeats won the game against Sergei Lobanov of Russia. Viachaslau Zarubitski and Arseniy Nesterov made a draw.
After 5 rounds Kirill Shevchenko is solely leading the table with 4.5 points. Aram Hakobyan and Shant Sargsyan are closely trailing the leaders with 4 points apiece. Arseniy Nesterov of Russia is at clear fourth place.
Useful links

www.chess-results.com

Weather in Jermuk
Sponsor

Organizers