Smbat Lputian Held a 12 Board Simul in Jermuk
2017-10-08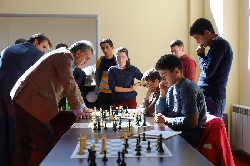 Today first vice-president of Armenian Chess Federation GM Smbat Lputian hold a 12 board simul in Jermuk. His opponents were young and talented chess players from Kapan and Jermuk. Before starting the simul international arbiter Norayr Kalantaryan explained to participants the rules of simul, than added that for young players it is an honor and great chess experience to play against Olympic Champion and well known grandmaster Smbat Lputian. Smbat Lputian won 11 games and only 13 year old player from Kapan; Gagik Manucharyan managed to win the game. After the simul GM Lputian told that he is satisfied with level of some players, in particular he mentioned the good level of game showed by 12 year old Alen Gevorgyan as well as by the game of the youngest participant; 7 year old Andranik Tadevosyan. The above mentioned players received gifts.
The tournament was being in the framework of European Youth Grand Prix and was organized by Chess Academy of Armenia and Kapan Mine Enrichment Plant.
Photos can be found here.
Useful links

www.chess-results.com

Weather in Jermuk
Sponsor

Organizers